The Financial Inclusion Team was newly formed last year by Govan Housing Association in order to assist our tenants and the wider community with all matters relating to Money and Welfare Benefit Advice. Also providing a service to represent at social security Tribunals. 
Within the first year, this enhanced service has generated just over £1.2 million in a variety of ways to help mitigate the effects of welfare reforms, including the implementation of Universal Credit full service.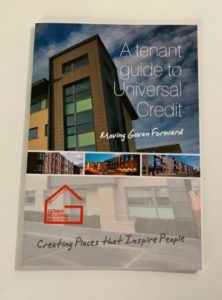 Our Financial Inclusion Team is qualified in both Welfare Rights and Money and Debt Advice, ensuring that our tenants receive a holistic service from any member of staff within the team.
During this first year, Govan Housing Association facilitated a Universal Credit event in partnership with all local RSL's and other organisations including the DWP. This event allowed members of the community to visit on a drop-in basis and speak to staff members from various organisations to receive one to one advice in relation to Universal Credit. Our team also produced 'A Tenant's Guide to Universal Credit' book which was proven to be very useful during the roll out of full service in Govan.
The Financial Inclusion Team offers a Financial Health Check for every new tenant. We also have a number of projects which have been established in this first year including a Furniture Initiative offering starter packs, good start packs, carpets and furniture packages. To help tackle fuel poverty, we have also launched an Emergency Energy Fund for tenants, especially with the introduction of Universal Credit, to ensure that they receive a fuel top up when in a crisis situation. Our team also provide emergency food packs along with the South East Food bank vouchers.
Various Govan Housing Association departments including Community Inclusion, Housing Management and our Govan Home Team, have launched our first Govan Reuse Project. This has quickly become successful in ways of alleviating poverty with reused and new goods to sustain tenancies. We are hoping to expand this with our Community Inclusion Team to include volunteering opportunities. The team have generated grants for our tenants in excess of £73, 457.53 which is a major achievement for the people of Govan.
This year, the Financial Inclusion Team is also working towards the SNSIAP National Standards accreditation model and we are due to be peer reviewed and audited from August 2019.
This is a major achievement for the team in our first year and shows the vital work being carried out to offer financial helps and support to our residents. These results demonstrate the volume of work being carried out in relation to improving tenancy sustainment and ensuring that our residents receive all that they are entitled to, whilst improving the people of Govan's financial capabilities.  The development of the team in the first year has been extraordinary and will continue to grow and deliver a great service for our residents and local community.

Marina McCall, Financial Inclusion Manager of Govan Housing Association
We are very proud of the Financial Inclusion service and the achievements within the first year. The wider support we are now providing to local residents is remarkable. This vital work makes a resounding difference to the people of Govan and this is yet another example of some of the great work that Housing Associations carry out to enhance and support people's lives, that is fundamental to making a difference.

Fiona McTaggart, Chief Executive of Govan Housing Association